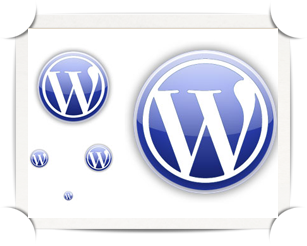 The TalentLMS plugin for wordpress let you consume course data from TalentLMS. It also offers a widget to login directly from your wordpress theme to TalentLMS.
We assume that you use the WordPress site as presentation site; all user data is stored on TalentLMS.
Installation
To install the TalentLMS wordpress plugin go to Administration Panels > Plugins > Add New and search for TalentLMS. Find the plugin and click Install Now. Alternatively, you can download the TalentLMS wordpress plugin (v1.1) from here.
After downloading the plugin extract its contents into the plugins folder of wordpress. You can find more information about managing and installing WordPress plugins here.

After you install the plugin you can find it in the list of installed plugins (Administration Panels > Plugins > Installed Plugin). There click on the link Activate.
Setup for integrating wordpress
After activating the plugin, in order to be able to use the TalentLMS features you need to setup some TalentLMS details.
Go to Administration Panels > Plugins > TalentLMS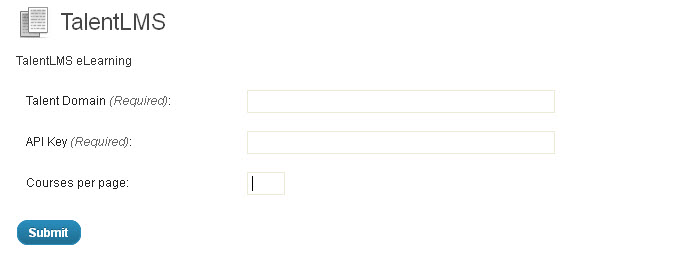 Fill the required fields with the details for your corresponding talentLMS domain.
TalentLMS Domain: The talentLMS domain which you want your wordpress site to link to.
API Key: The API key of the corresponding talentLMS domain. In order to get that log in to your talentLMS domain as administrator and then go to Account & Settings > Security. If not clicked, click on Enable API and copy paste the provided key.
[block-message type="info" close="false" text="In order for the plugin to best integrate with WordPress you MUST change your Common Settings in the Administration Panels > Settings > Permalinks to other than default (we strongly advice that you use Post name)"]
Using the plugin
To list all the courses of your talentLMS domain create a new wordpress page (for more information about wordpress pages click here) add the shortcode: [talentlms-courses] and publish your page.

To configure the number of courses listed in each page you can setup a limit using the courses per page option (Administration Panels > Plugins > TalentLMS).
TalentLMS WordPress theme
We have developed a wordpress theme which can be used to setup a wordpress site in order to promote content from a talentLMS domain. TalentLMS wordpress theme is based on the WordPress Boostrap (which can be found here).
On top of WordPress Boostrap theme option, our theme offers a few additional theme options for a more flexible customization.
TalentLMS theme options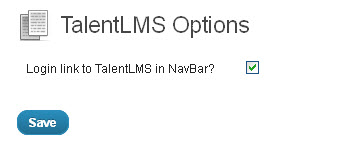 TalentLMS Options: TalentLMS options lets you setup some details about your site appearance, such as if you want to have a link to your talentLMS domain on the navigation bar, etc. You can find these options under Administration Panels > Appearance > TalentLMS Options
Logo: Under Administration Panels > Appearance > Add logo you can upload an image which will be the logo to your site. The logo will appear in the top left corner of the navigation bar. Its dimension could be anything since the image will be resized but we recommend that the height of the logo image should be not more than 28 pixels.
Widgets and widget sidebars
TalentLMS wordpress theme offers you three widget sidebars for the frontpage of your site, on top of the sidebar already provided by WordPress Boostrap. Their names are Homepage Slot 1, Homepage Slot 2 and Homepage Slot 3. You can use them to customize your websites frontpage by adding wordpress widgets to them.
TalentLMS wordpress widgets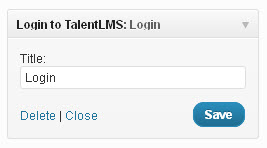 Under Administration Panels > Appearance > Widgets you can find default wordpress widgets or widgets added by your plugins. TalentLMS plugin adds a new widget "Login to TalentLMS" which gives your website access to your talentLMS domain by your wordpress website.
A website example
Following you can find some screenshots of a really basic sample wordpress site build using TalentLMS wordpress theme. This basic example features talentLMS domain offering history courses.