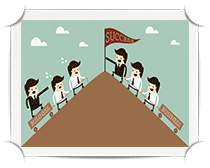 You never get a second chance to make a first impression. And it's not just your prospective hires that have to make a good impression to your HR guys, but also the other way around. That is, if you want to retain talent and have it enthusiastically adopt your company's mission and culture.
And you DO want that. Replacing employees is costly, as is training new ones. It has been estimated that the cost of replacing an employee can be up to 50% their annual salary. Not to mention that there's always some disruption to your business during the process.
Purpose of onboarding process
Employee onboarding helps to get new hires integrate smoothly in your company and let them have a complete feel for the place and their career prospects in it. Of course it's not substitute for offering a great career prospect in the first place, but it's very effective in making those known and creating a welcoming atmosphere of acceptance and transparency.

Employee orientation
We wrote about employee onboarding in previous posts. In this one we'll be a little more specific and look into the ways TalentLMS can help you get it right.
The first step in the ongoing and comprehensive process that is onboarding is of course employee orientation. You need, in as short time as possible, to make new employees understand the general structure of the organization, how they fit in it and what their role is.
An LMS platform, such as TalentLMS, is a very valuable tool in achieving that. Employee orientation is, after all, just a specialized case of learning.
Of course an LMS is not a replacement for the welcoming part of the orientation. This, you should handle at a personal level, paying attention to the human element, showing the new hire the company premises, arranging for meet and greet sessions with his new colleagues, department heads and support staff, and so on. You should let the new hire know that there's someone he can talk to to address his questions, suggestions or complaints.
For the rest though, including the most repetitive and time consuming onboarding tasks, you can rely on your LMS to not only automate the process, but also provide measurable insights on its progress (course completion, reporting, etc).
There are some things that should be requisite parts of your LMS onboarding material.
Organization structure
An organizational chart, showing the structure of your organization and the relationships and relative ranks of its parts and the various job positions is immensely helpful. Not only does it give new hires a sense of their place in your company, but also to older employees needing to cooperate with some other department. Especially if it also contains email addresses, phone numbers and office locations.
With an LMS you can have that organizational chart online and available 24/7 and be able to update it with ease whenever the need arises. But the real benefit of an LMS, compared to a traditional intranet portal solution, is that you can connect each node of this chart with extended documentation, courses and material on how that department, position etc operates.
This is valuable to someone to read for his own position, but it's exponentially more important for people in managerial positions, to be able to quickly learn about the roles and operation procedures of the departments and people under their command.
Company's rules and regulations
The second most important asset to have in your onboarding course would be the set of your company's rules and regulations. Those, especially for large enterprises with lots of areas of business, can extend to many thousands of printed pages. To those, you'll have to add all the legal information an employee must know (for example laws against racial and sex based discrimination).
Adding those online is a first step, but turning them into an e-learning course (even if it just involves the basics of them every hire needs to know) is even better, and it even gives you a way to ensure that your employees know enough of this stuff (by having a mandatory exams phase for example).
This is again an area were an LMS, with its emphasis on learning as opposed to being a mere document store, has the upper hand compared to a traditional intranet portal system or something like Confluence.
Career advancement, holidays, benefits, bonuses
Moving beyond your company's rules and regulations, don't forget the stuff that employees want to know but most are afraid to ask, like information about career advancement, days off, holidays, benefits and bonuses. Adding them online is better than avoiding the matter altogether or forcing new employees into having an awkward conversation about such stuff (inquiries that lots of managers interpret as lack of motivation, etc).
Bonuses and perks especially is something you want your employees to know about. It's these ways where your company gives them back something besides their salary that boosts their loyalty and helps in retaining talent.
Evaluation
Speaking of talent, using a tool such as our TalentLMS for evaluation (through quizzes, tests, etc) is a good way to measure the potential of new hires, as well as their aptitude for different kinds of tasks.
Especially within a larger organization, knowing were to assign new hires is one of the most important steps of the onboarding process, and the initial evaluation from your interviewers should not be the final word on the matter.
Two key points
There's a lot more things we could say on the subject, and this is why this post is titled "part 1". But if you're just going to take away two key points, those should be:
1) Onboarding is not only important in making employees productive quickly but also in retaining talent. It's also not a one-time thing, but a continuous process (as employees adapt new skills, move in the company hierarchy, change departments and roles, etc).
2) While lots of companies use their intranet portal system to dump the large volumes of information needed for the orientation and onboarding processes, an LMS platform is even more apt to the task, because it adds the necessary elements of e-learning and progress tracking.
Stay tuned for the part 2. See you next week!
| Tags: Online Employee Onboarding