Before cloud-based services and Software-as-a-Service (SaaS) became widely available, "corporate branding" was a much simpler affair. It typically included customizing letterheads, envelopes, and similar communication materials.
The concept of corporate branding has expanded significantly over the years, with all aspects of a company's public image, including its retail storefronts and websites, now being a part of it. It also extends to online services that a company offers its employees, partners, or customers, white-label LMS being one of them.
Let's talk about how a white-label portal can help you personalize your employee training, and how you can facilitate an intuitive learning experience, corporate brand standards included.
---
Looking for an LMS you can easily customize?
White label your TalentLMS portal and create an engaging experience.
The training platform that users consistently rank #1.


---
What's white labeling all about?
White labeling an online service (your training portal, for example) means using your corporate branding (logo, colors, etc.) to make it a natural part of your brand in the users' eyes.
The term comes from commercial products with unmarked "white" labels, which can be easily branded and sold by various retailers.
In today's online world, cloud-based software and services have adopted white labeling as a way for organizations to expand their offerings for various stakeholders without building in-house solutions from scratch.
That brings us to the next question: why is white labeling your training portal a good idea?
The perks of training with a white-label LMS
First of all, the process of white labeling is really easy. With TalentLMS, you can confidently change the look and feel of your training portal, no IT skills required. All you have to do is prepare your brand identity materials, such as your logo and colors, and you're good to go.
But, more on that later. For now, let's take a look at what makes a white-label portal a must for personalized training.
Organizational brand reflection
Your training portal is the face of your brand, both in-house and out. Whether you use your portal for new hire onboarding and employee training, or as a public portal for customer and partner training, how it looks matters. By making your portal a natural extension of your brand, you'll create a more seamless, branded user experience, which will result in improved learner engagement.
Personalized learning experience
White labeling goes beyond changing the logo and colors of your training portal. For example, you can change the timezone and language of your training portal based on the needs of your employees or partners in different sub-portals. By customizing your portal, the training you provide them with will resonate that much more.

Industry and market recognition
If you're selling your courses or offering subscription-based training, a white-label portal makes sense. It helps you differentiate from other competitors in the market while creating a more memorable, unique industry presence in the potential customers' eyes.
Value-added training
When your LMS offers built-in customization options, you can spend time on what really matters: creating value for your employees and customers. With personalization being taken care of, you can focus on content creation, gathering learner feedback, and improving your training programs.
Client affiliation showcase
Just as you can have a white-label learning management system that matches your brand, you can also reflect your clients' brand. This is useful if you're selling courses for multiple clients and want to create separate branches to customize based on each client's brand identity.
---
Increase your learner engagement with a white-label LMS.
Make your training portal a part of your brand in the visitors' eyes.
Easy to set up, easy to use, easy to customize.


---
White labeling your TalentLMS portal
TalentLMS comes with extensive white labeling features, which can help elevate your training portal in the users' eyes. They can reinforce the brand identity of your white-label portal while allowing you full customization of the eLearning environment as you see fit. So, what are your options when it comes to white labeling your TalentLMS portal?
Pick your unique domain name
Your domain name helps users will find your portal through search engines. It's a unique identifier of your training portal, and you can customize it to reflect your branding (such as using your organization's name, different divisions or departments within it, etc.).

Upload your logo and favicon
Your logo is an inseparable part of your branding, and you can place it directly onto your training portal. Together with your favicon (the icon that shows up on your browser tab, identifying your portal), it'll be easier for visitors to identify your training portal with your brand as a whole.
Match your portal's theme to your brand
TalentLMS features a variety of ready-made themes you can use or customize however you like. You can also create brand-new themes by combining different colors based on your brand and then saving them for later use. Best of all, creating and modifying themes is very easy.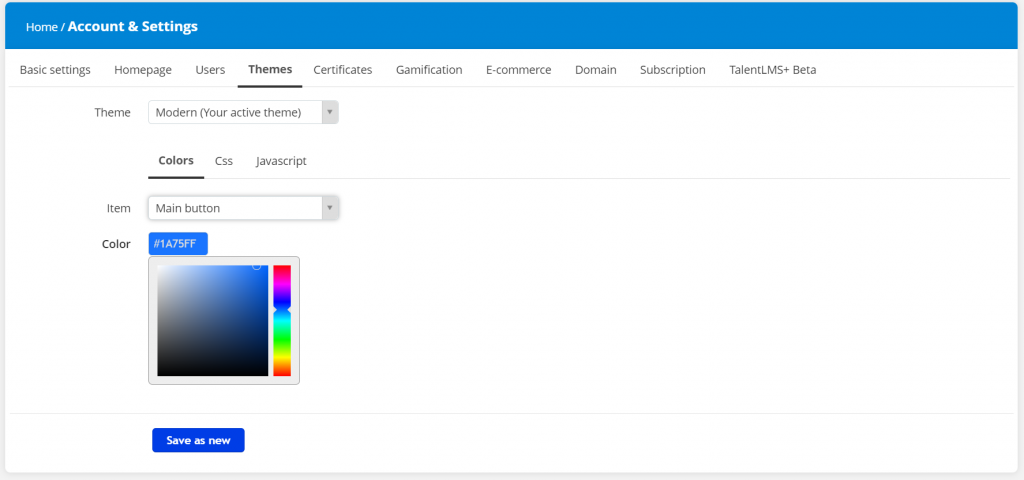 Set up your homepage layout
Your homepage is the first page anyone who visits your learning portal will see. You can customize your homepage to include images, text, and other elements based on your brand. Likewise, you can showcase a few select courses as a primer for new learners or customers coming to your portal for the first time.

Create separate sub-portals (Branches)
TalentLMS allows you to create unique learning environments based on the needs of different learners and customers. For example, you can change the language and timezone settings of each sub-portal, as well as fully customize its look and feel, in addition to the course catalog.

Choose your language and timezone
Not all of your learners will speak English well enough to engage with your learning portal. They might also visit your portal from all around the world. If you're using sub-portals in TalentLMS, you can also use multiple languages and timezones at the same time in different sub-portals. This makes customizing your user experience to suit different users' needs very straightforward.

Prepare notifications for your learners (automated emails)
Notifications are a useful feature that lets you set up automatic email notifications on your portal. For example, you can notify your learners about new courses you've enrolled them in or remind them about logging in and completing their pending courses.

Design your course certificates
As learners complete courses on your portal, you'll want to award them with certificates. TalentLMS lets you choose from a variety of certificate templates that are ready to go. Or, you can upload your own certificate templates for an extra layer of white labeling.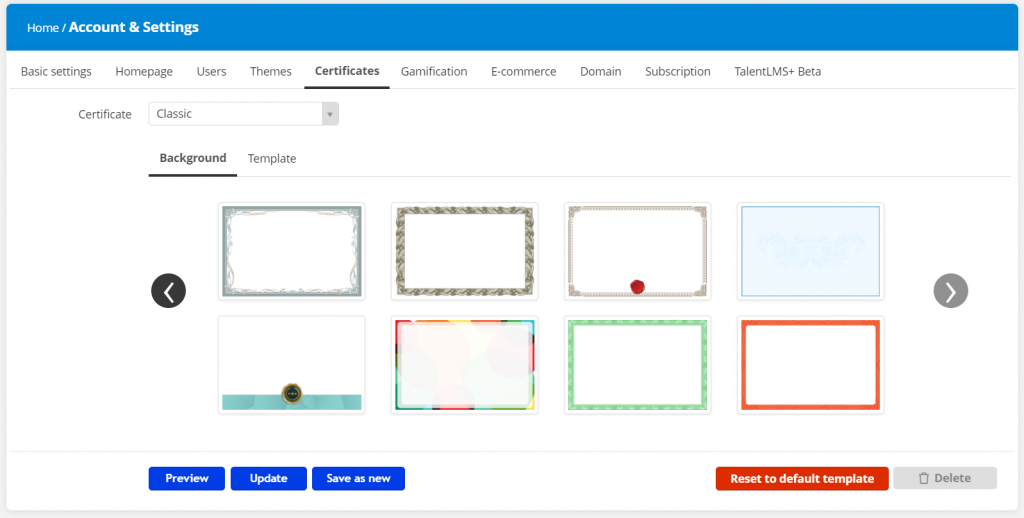 Customize your Android app
If you'd like to provide your learners with training on the go, TalentLMS also allows you to create a custom Android app. You can have your own app icon, logo, splash screen, colors, and more. This can drive the adoption of your training portal even further and make it easier for people to discover your courses even without access to a computer.
If you're interested in a more detailed breakdown of how you can white label your TalentLMS portal, take a look at this article.
Getting started with your white-label portal
Making a white-label LMS platform work for you is a matter of finding creative ways to customize it based on your learners' or customers' expectations. A white-label portal helps establish a solid brand identity in your visitors' eyes. It leads to increased online brand recognition, better training adoption, and higher learning retention.
Originally published on: 18 Apr 2018