When it comes to choosing an LMS, there's one group whose needs often get forgotten or considered (too) late in the process.
Your learners.
Instead, the business case for an LMS often centers around the requirements of senior stakeholders (HR, Finance, Sales, and IT, for example). Whose concerns fall mostly around logistics such as capacity, compatibility, pricing, and implementation.
There's sound reasoning behind this. But it's not enough.
Your learners are the ones who'll be using your new LMS (or not!). Trained employees who'll be using their new skills on the job will give your organization a good ROI. And they're the ones who will, ultimately, determine whether your investment is an L&D success or failure.
So the way they feel about your LMS, and the "sensations" they experience when they use it, matter.
Which means that, as well as ticking off the logistical elements your execs require, it's important to look deeper and focus on which of these top LMS features resonate most with your end-users.
Why you need a user-friendly LMS
But why does having a platform with an intuitive design and the right learning management system features matter? Isn't it the content that really drives engagement?
If you've given up using a travel website, e-shopping service, or gaming app because it's impossible to navigate (and even harder to complete a transaction), you'll know the answer. Design and usability matter. More than you might think.
Yes, the content matters, too. (I bet you really wanted to find out more about that 50% off holiday.) But without the right navigation or interface guiding you intuitively towards the content, chances are you gave up and moved on to something else.
Most of your learners want to learn. Maybe not as much as they want that holiday but, nonetheless, upskilling is in their interests as well as the interests of the business. And your LMS must give them every opportunity to do that.
Get the combination of user experience and some of these top LMS features right and you'll hook them in from the start. And that's when you start reaping the benefits of a good UX. But what are those benefits? Let's take a look.
Grow user adoption: The easier your LMS is to use, the more people will engage with it. They're also more likely to encourage others to do so, too.
Streamline onboarding: If your LMS is easy to navigate, your learners will need less support (from you or your third-party provider or your in-house IT team) to get up and running.
Meet ROI targets, faster: A positive and problem-free LMS user experience means you'll reach your training (and business) targets quickly.
Create a dynamic learning experience: With a well-designed and feature-rich LMS at their disposal, your eLearning team can create, upload, and update course content at speed. And deliver engaging and impactful training initiatives that will keep learning fun, fast-paced, and current.
Smash course completion targets: Not having to battle with glitches, clunky navigation, or an overly complex UI means your learners can focus all their efforts where it matters—on their training.
Raise levels of learning: A smooth and stress-free learning experience supports better knowledge retention and a higher quality of learning.
Grow a positive learning culture: To nurture a healthy culture of development and training, means promoting positive associations with learning. And the design of your LMS is central to this.
Hold onto talent: Invest in well-designed and thoughtfully delivered training and you're more likely to retain top talent across your organization. And see that talent grow to take on more responsibilities and deliver more for your business.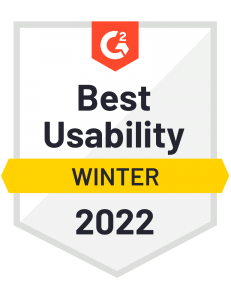 Deliver your training with TalentLMS
The training platform that users consistently rank #1
Easy to set up, easy to use, easy to customize.


---
10 must-have top LMS features
To meet your learners' needs, design and usability need to work in parallel with a rich and meaningful collection of top LMS features. And when it comes to online training, often the best LMS features are the ones your learners might not even notice.
But what should you look out for on their behalf? Here's our top LMS features checklist with 10 absolute must-haves:
1. White label functionality: Show a familiar face
Give your learners a training environment that makes them feel at home by making sure it has white label LMS options. With a white label LMS, you can customize the look and feel of your portal to match your brand.
Whether it's font, colors, logo, layout, or domain, having a white label LMS means you can create a familiar setting your learners won't need much time to adjust to.
2. Localization: Banish boundaries
Make sure your training embraces your whole audience by localizing the experience. If your LMS has a content localization LMS feature, you'll be able to customize your learners' experience according to location, language, and timezone.
3. Gamification: Play the game
Transforming learning into a competition adds an element of fun and creates a buzz around training initiatives. And grows engagement, too.
Which is why LMS gamification features are so important. Points, badges, avatars, rewards, levels, and leaderboards are all examples of LMS gamification features to look out for.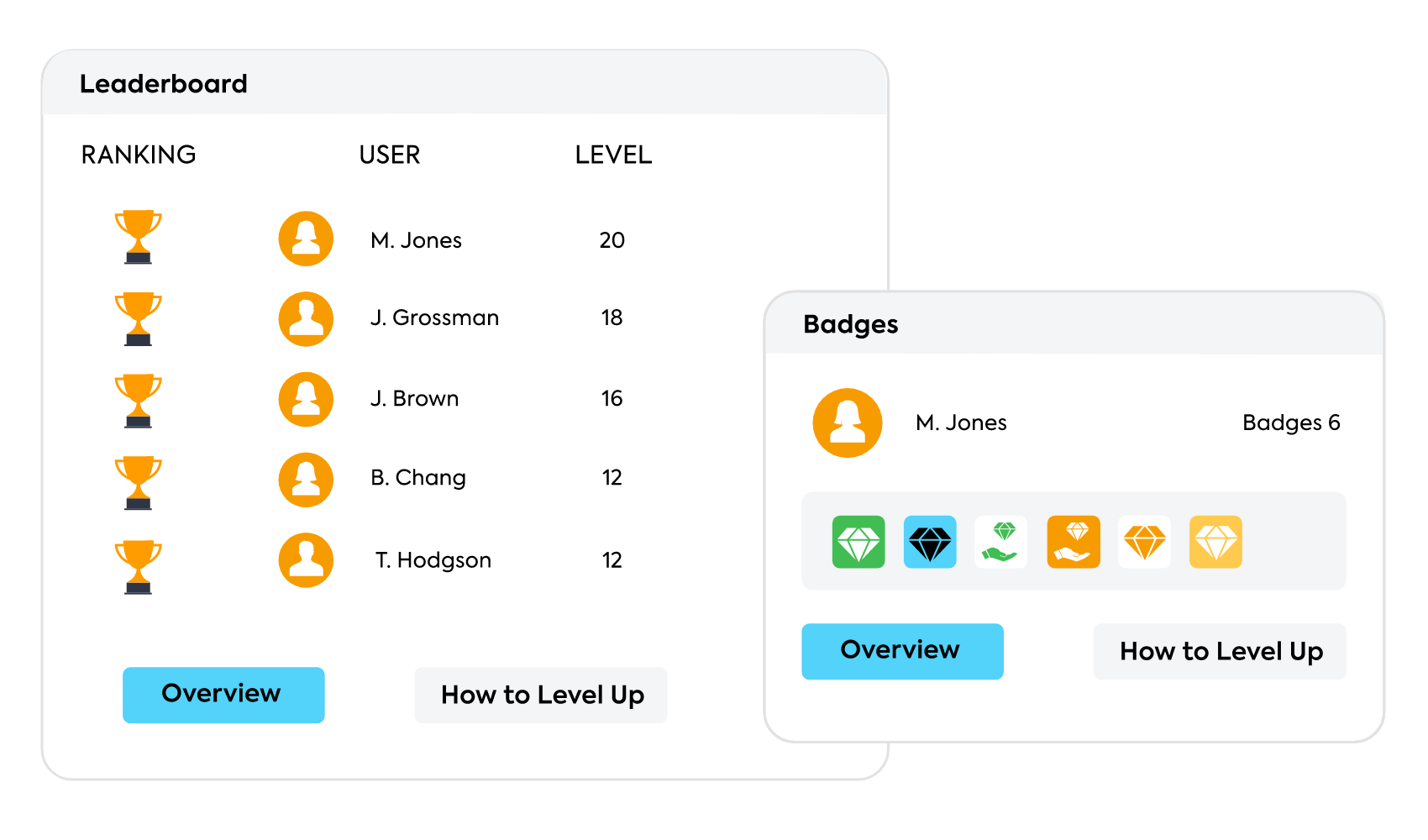 Are you ready to build your own gamification program?
Reap all the benefits of gamification from day one with TalentLMS.
The training platform that users consistently rank #1.

---
4. Single Sign-On: Get logged in
Unlike most of the other LMS features in this list, Sign-On (SSO) functionality has a rather narrow and unglamorous remit: to make logging in easier. Which is why it's unlikely to win a "Top LMS features" popularity poll.
But show your users an LMS without this functionality and they'll definitely vote for SSO next time around. With no new passwords, usernames, or account details to remember, your users' important first encounter with their new LMS will be seamless, setting a positive tone for the rest of their learning journey.
5. Videoconferencing tools: Bring learning to life
Distance learning has many benefits. But learners might feel isolated without the right LMS features in place. With videoconferencing tools integrated into your new LMS, you can provide live training sessions (supported by two-way communication) to banish any potential disconnect.
6. Discussion forums: Support social learning
Discussions support social learning (one of the most effective training strategies) by turning passive recipients of information into active participants. With online discussion groups integrated as one of your top LMS features, you can leverage the power of one of your greatest training resources—your learners.
7. A rich course editor: Showcase content
To cater to all learning types your course material should be rich and diverse. Using a range of media types (videos, quizzes, presentations, audio files, and documents) makes learning more interesting, too.
Which is why a versatile and easy-to-use course editor which supports all of the above should be high on your list of top LMS features.
8. Mobile app: Take training out of the office
For training to be all-inclusive it needs to work for all of your learners, wherever they are. With a native mobile app as part of your LMS features package, you can provide a consistent and continuous learning experience, company-wide—no exceptions.
9. Sub-portals: Show learners only what matters to them
Here's another LMS feature that might slip by your users unnoticed. But it will benefit them—even if they don't know it.
If you're offering a wide range of courses to many different audiences, learners might feel a bit lost in your training portal. Instead, if you're able to create—and easily manage—sub-portals, you'll segment users by location, department, interests, and so on, and offer a unique experience.
For example, your salespeople in the US will only see courses that relate to their job and location. And your web designers won't have to scroll through a long course catalog to find the "Intro to Figma" session they were looking for.
10. Enhanced accessibility: Train for everyone
Want to build a truly inclusive training program that all your learners will love? Then you need to look beyond the generic WCAG-2 web accessibility guidelines. Look for an LMS with built-in accessibility features, too.
Good examples to check for are: adding subtitles to videos, or integrating with web conferencing platforms so you can store and share recordings of live sessions.

Tips for choosing the best LMS
But an LMS user experience isn't all about features. Functionality can (indirectly) impact learner experience, too. So, it's important to give it some thought.
Here's a quick cheat sheet of what to look out for:
An intuitive interface: Is the interface easy to use? You won't know unless you're able to test it. So look for a free LMS or one with a free trial and use feedback from learners and admins to guide your decision.
Reporting functionality: Where are learners struggling? What parts are they skipping? Built-in reports will give you the insights to identify areas for improvement and build a better learning experience.
Automations: From reminders that help learners complete their training on time to mass actions that free up admins' and instructors' time, behind-the-scenes automations keep everything on track.
Paid courses and subscriptions control: If you're offering customers paid courses, make sure your platform allows you to manage additional options like coupons and subscriptions.
The power of an LMS features checklist
Keeping a checklist of top LMS features is a good way of staying focused when shopping for a new learning management system. It can also help you prioritize your requirements based on your needs and resources.
So, whether it's the 10 must-have features listed above, or your own customized list, try and stick to it. And don't compromise. Your learners will love you (and your LMS) for it.