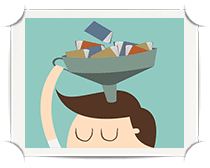 We all heard those terms and if you're designing e-Learning courses you have probably encountered the dilemma of making choice between two of those. This choice can be tough if you're not sure what are the pros and cons of each method and what are the best practices you can implement when designing the course.
This week we gathered 10 must-read articles about synchronous learning so next time not only your choice will be easier but if you choose to deliver real-time e-learning experience, you will know everything you need to make it super valuable and engaging.
Where do we start? From the basics of course! In our eLearning 101 ebook you will find the essentials you need to understand what synchronous and asynchronous e-learning are, what are the main differences, benefits and drawbacks of each method and who should consider them. This short chapter will provide you with grounds for further research of the subject.
Here's something for those of you who prefer pictures than reading. Really simple infographic comparing synchronous and asynchronous e-learning, short and to the point. Infographic explains the basic difference between two modes and tools used for their delivery in an easy to understand way.
Perceptive and elaborate article by Stefan Hrastinsky on benefits and limitations of both synchronous and asynchronous e-learning. In the article you will also find answers to the most common questions – which method you should choose, when you should choose it and most importantly – how you can implement it into your learning strategy.
If you're not sure which mode you should choose for your learners, this is probably one of the best articles to help you figure that out. You will learn not only the advantages and disadvantages of both methods but also what are the key points you should consider to make the right choice. Once you choose which option fits your needs best, you can also find best practices of synchronous and asynchronous e-learning. All in one.
5. Synchronous Course Delivery
Faculty module about synchronous course delivery. What more could you ask for? Once you decide that synchronous e-learning is what you're looking for, this module will help you create great courses. Pay attention especially to the chapters about technologies used in synchronous learning and ways to add value to your real-time courses.
And here's something that everyone who considers using synchronous learning should read. This article provides great crib that consists of training tools, apps and platforms you can use when creating or improving your synchronous courses. Article is also rich in tips about implementation of those tools and examples of how they can be used to make the best out of them.
Developing a course where both you and your learners are online at the same time and everything is live can be tricky and challenging but authors of this article know how to keep your session successful. These 7 tips will help you work out the right approach, avoid common mistakes and deal with typical problems that are not so easy to solve when the course is live.
Bunch of tips on technical issues like fonts, graphic design and animations for everyone who's planning the design of their presentation for synchronous e-learning course. Seth Brickner in his article also covers interesting subject of users engagement improvement by creating interactive lessons and provides readers with solutions and ideas to keep your learners interested.
Great, very rich presentation with list of best practices for synchronous e-learning. Blaine Morrow shares insightful tips on using tools like audio, webcam, live chat  and archives and what's most valuable, how to keep users constantly engaged. Presentation is so clear and easy, there's no way you that after reading this will make something wrong when creating your next synchronous course. Slideshare presentation is missing videos but you can find them in the link in comments section.
144 tips on synchronous e-learning. Doesn't it sound impressive? And it really is. Ebook is based on the survey conducted by the eLearning Guild and it's full of tips and ideas on planning, designing, creating and managing your synchronous e-Learning as well as blending with with other tools and strategies. Definitely a must-read for designers working on synchronous courses.