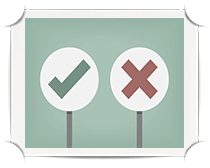 It's a common misconception that learning management systems are intended solely for big organizations with a large staff and even larger budgets. However, in all actuality, small businesses are among those who can benefit the most from an LMS. With the aid of a learning management system, organizations gain the ability to achieve effective employee training and development without spending a fortune.

Regardless of your niche or the number of people you currently have under your employ, LMS can be a powerful tool that increases profits, widens your customer base, and helps you to achieve small business success.
In this guide, we'll focus on some of the benefits that having an LMS for small businesses can offer, and how it can help your organization to truly thrive in today's competitive marketplace.
1. Enhances customer service.
It's a proven fact that improved employee training leads to improved customer service, given that the employees then have the tools and knowledge to successfully represent your brand and know the basics of customer care. Using an LMS even in a small businesses can give you the ability to offer learning materials and courses to your employees that will significantly boost customer service skills, which will inevitably lead customer loyalty and increased profits. Employees will have the opportunity to train in a variety of tasks, depending upon which module you include within your training program. For example, you may require them to complete POS training or interact with a virtual customer, which can all mimic real-world scenarios that they would find on the job.
2. Allows employees to keep current with product updates and policies.
If you have new products that you'd like your employees to know about or newly enacted company or state-mandated policies, then a small business LMS is a tool that can allow you to keep your employees updated quickly and conveniently. For instance, if you are launching a new product that involves a variety of features your salespeople need to know about in order to effectively sell the item, then you can create a course or learning module that highlights all of the current information. Again, this will lead to increased sales, due to the fact that your employees will be informed about new and exciting goods or services that you are offering, and will be better equipped to then pitch the product to consumers.
LMS for small businesses is also ideal for policies and regulations, given that it will enable you to rapidly incorporate new procedures or laws into your modules so that your employees can stay up-to-date. This can actually save you money in the long run, particularly if it's a matter of state-mandated regulations that involve hefty fines. If your staff knows about the industry rules and regulations that they must adhere to, then this can help you to avoid fines and penalties in the future.
3. Enables centralized storage of data and learning materials.
Learning management systems allow you to store a wealth of learning data and business related information in once centralized location. Rather than having all of your training materials scattered in filing cabinets or on multiple computers, you can keep it all in one place and then gain immediate access to it when it's time to train new employees or update courses. This means that there's also a reduced loss risk, given that all of your information is backed up and safely stored on a remote server.
4. Gives organizations the opportunity to provide real-world training.
Online training through learning management systems gives employees the chance to train in real world settings, without having to actually venture into the real world. They are given time to fine tune their skills and learn about company procedures through LMS modules and courses, which can be customized to mimic real life scenarios. For example, a sales employee can learn how to use the register or how to effectively carry out a sale, all without stepping foot on the sales floor.
5. Can be easily customized for maximum results.
One of the most significant benefits of an LMS for small businesses is that it is so easy to custom tailor to meet your needs. You can easily update it in order to include new information or training materials for employees. Not to mention that it's scalable, which means that you can pick and choose the features and functions you want, rather than having to purchase a large bundle of courses or learning tools that includes items you really don't need. This makes it more budget friendly and ideal for small businesses that may not need a multitude of training modules.
6. Easy to track employee progress and skill set development.
With learning management systems, you gain the ability to keep track of employee development and progress, due to the fact that all of the results and reports are available to you while an employee is participating in online training. For example, if you want to see how a particular employee is faring in terms of skill development, then you simply log on to the platform and view their stats and reports. You can then work with them to fine tune any skills that may be lacking and utilize them in the right area of your business based upon your findings. You can also give them the opportunity to work in new departments should they prove that they have expanded their knowledge base and progressed during their training, if you so choose.
7. More cost effective!
LMS don't involve printed materials. Nor do they require an instructor to be physically present. As such, learning management systems for small businesses are extremely cost effective. Even if you have only a small portion of your budget to allocate to training, you can still reap all of the rewards that learning management systems have to offer. You won't have to worry about spending a small fortune on instructor travel fees or printing a number of training booklets. It's all done on your LMS. You gain the opportunity to improve your bottom line, enhance customer service, and achieve small business success, all thanks to LMS for small businesses!
Looking for more information on how to utilize an LMS as your small business training solution in order to become more efficient? This article offers a five-step approach to create a LMS plan that will allow you to prepare, choose, and launch a learning management platform in your organization: https://elearningindustry.com/5-step-planning-for-your-next-lms.
Do you have your own experiences with using an LMS in a small business? Did you find any benefits not listed above? Share in the comments!
| Tags: LMS for SMBs