Training for small business employees needs to address the unique pain points that small business owners know all too well. Like, how do you improve your onboarding process to prevent turnover? How do you ensure employees actually retain knowledge and gain new skills? How do you keep up with the ever-changing compliance requirements and the new realities of remote training?
Most importantly: how do you do all the above without breaking the bank? After all, according to the World Economic Forum, small businesses are still struggling to bounce back from the COVID-19 crisis. And while you understand the importance of continuous training for your team, you also need to keep the lights on. So, when it comes to small business employee training, you are looking for two things: low cost and effective.

The solution? Invest in a small business LMS.
With a Learning Management System, you don't need to outsource your training. You can create your own courses and reuse all that content as many times as you need. Or, you can buy off-the-shelf, high-quality courses from your LMS vendor.
Additionally, an LMS for a small business helps you streamline your training, offering eLearning solutions that are ideal for a remote working environment.
Sounds ideal, right? But remember, there is no "one size fits all." On one hand, you need to make sure your selected vendor offers all the LMS features your business needs to thrive. On the other hand, you also need to be careful that the LMS vendor doesn't sneak in any unnecessary features that will only drive the price up.
Consider the following your "small business LMS" cheat sheet. Below are the features you need to look for in your training platform.
10+1 essential LMS features for small business employee training
Finding the ideal training software for small business training takes time and effort. It's important that it doesn't take unnecessary cost too, especially when you're training on a budget. That's why we've rounded up the top features you need to look out for when researching possible LMS vendors.
Before making your selection, go through this list of features below and make sure your vendor offers all of them.
1. Quick setup and implementation
In big companies, there's usually a designated team responsible for LMS implementation. eLearning specialists and IT administrators set up the LMS, integrate data and tools, and create user accounts, delivering the HR department a training platform ready to use.
Small businesses can't always afford an eLearning team. The eLearning team is often a team of one, and the LMS implementation is just one (small) part of their job. Therefore, you need a user-friendly LMS; one that comes out of the box, where you can add courses and users with just a few clicks.

Start training your teams with TalentLMS
The training platform that helps you go live
in half the time than the category average.

---
2. Ability to support a wide range of media assets
Small business training should be imaginative and diverse. To that end, an LMS for a small business should be able to support a variety of media assets. Think anything from PDF files and infographics to interactive quizzes, videos, and podcasts.
Using different media assets in your training courses meets different learning preferences and offers something for everyone. Plus, it helps employees engage with training and stay interested. Which is particularly challenging when you are training a hybrid workforce, as is often the case now.
3. Gamification
Speaking of maintaining your employees' interest… how about turning learning into a game?
An LMS that supports gamification features can do that. Employees earn points, climb levels, and win badges. As employees "conquer" more knowledge and make progress, they unlock new courses and stay motivated to keep moving toward their ultimate goal.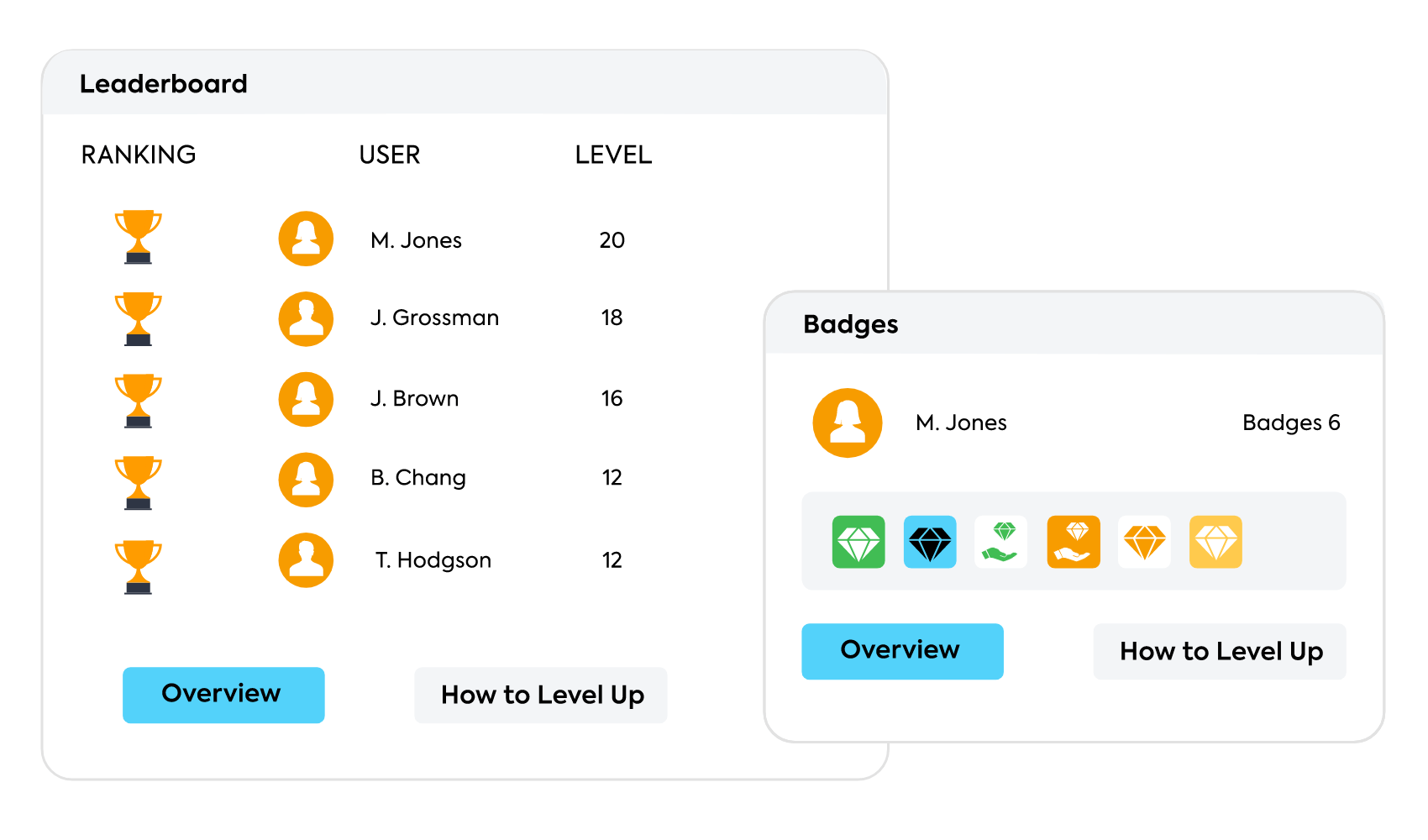 4. Employee collaboration options
A Gallup research shows that developing a blended learning approach (online and instructor-led) is very effective because it allows people to collaborate.
People prefer learning together—especially when circumstances are keeping many teams physically apart. So, virtual training needs to be a part of your training mix: the same Gallup research found it promotes "a sense of inclusion".
Also important? A built-in message center where employees can communicate both with each other and with the instructors.
5. Integration with tools you already use
An LMS for a small business should do big things for you. In fact, an LMS that integrates with tools you already use helps your workplace run smoother than before. Your LMS can—or should—integrate with project management platforms, video conferencing tools, calendar applications, and communication platforms.
A few examples? Think about Slack or Google Calendar. There's hardly a workplace that doesn't use these tools nowadays. Zoom integration is also essential if you are training employees remotely. It simplifies scheduling training sessions and allows you to track attendance and distribute learning material.
Looking for an eLearning platform to train remote employees?
Set up virtual meetings in no time with TalentLMS.
The training platform that users consistently rank #1.

---
6. Progress tracking and reporting
The best training system in the world is worthless if you can't track and report how learners interact with it. Before choosing your LMS, pay close attention to the reports and analytics part.
You need to be able to gain insights about your online training and generate reports about everything that happens inside your eLearning hub. This will also simplify things a lot when it's time to give employee feedback.
7. Handy automations
Employee training creates a lot of housekeeping. And, sometimes, you can get lost in the details. The best LMS for a small business should be able to automatically handle your repetitive, administrative tasks through automations.
When you don't have to perform tasks manually, again and again, you can focus on the things that matter. For example, why spend time trying to figure out which employees haven't completed a course yet? Set up a notification so that people get automatically a reminder before the expiration date. Likewise, if your small business LMS allows it, you can automatically send instructions to new users as they join the platform.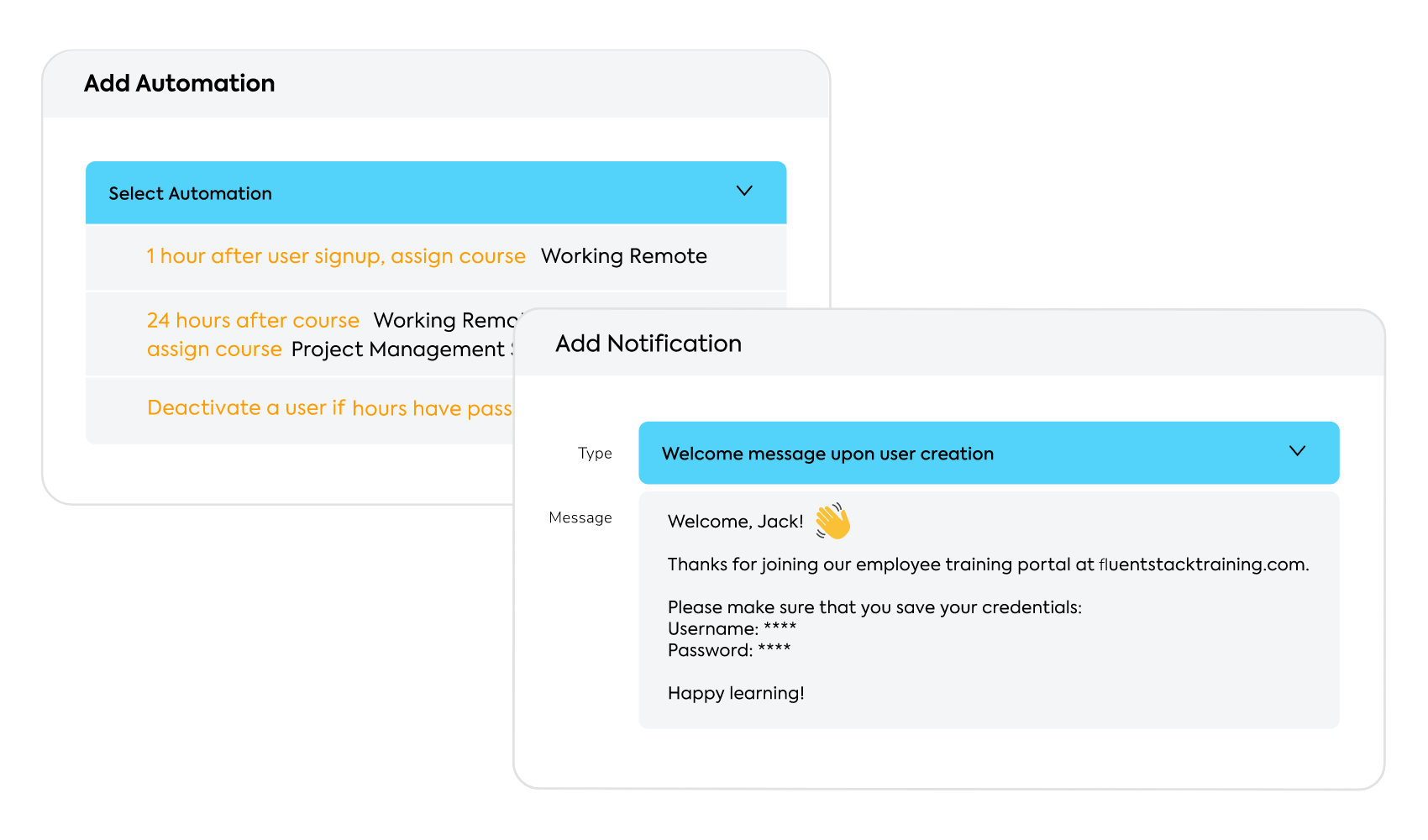 Send automated notifications and reminders with TalentLMS
The training platform that users consistently rank #1.
Easy to set up, easy to use, easy to customize.


---
8. Mobile-first
Nowadays, most LMS solutions offer a mobile version to some extent. But you need more than that. You need an LMS that is truly mobile-ready.
Employees now are much less likely to sit in front of a desktop computer for 8+ hours. Not if they can have training on the go, from the comfort of their phones. Mobile learning is convenient, easy, and makes more sense to modern employees.
So, make sure your LMS offers employees a seamless mobile training experience that fits not only their schedule but also the modern lifestyle.
9. Cloud hosting
Having your LMS data automatically saved to the cloud can be a lifesaver. Cloud-based LMSs are more flexible, as you can access them from anywhere. They're also much easier to install and maintain.
This is particularly useful for small businesses that don't necessarily have a team of developers available for managing the backend of their training platform.
10. Ready-made courses
Like we said before, small businesses usually can't afford an eLearning team. And since you're already extremely busy running your business, time is a resource you don't have. Not to mention that you probably don't have the necessary expertise to build an engaging training course either.
Fear not, because a small business LMS with ready-made courses will untie your hands.
No need to employ an instructional designer or a subject matter expert. No need to spend hours gathering training content and trying to figure out what should go where. Choosing an LMS with a built-in library will help you cut down on cost and time while increasing quality. You will gain access to a big variety of training courses created by experts and enhance employee skills that you hadn't even thought of.
---
Meet TalentLibrary™
A growing collection of ready-made courses that cover the soft skills
your teams need for success at work



---
11. Flexible pricing plans and free trial
A flexible pricing plan is a determining factor when you are about to make your final decision. Obviously, you need a free LMS or one that's reasonably priced. But as your company grows, you should be able to switch to a pricing plan that doesn't skyrocket just because you added one more member to your team.
You also need to ask for an LMS free trial. Even if you're investing in a free LMS, you should still ask for a trial to avoid losing valuable time on a tool that isn't right for you.
See if what your LMS vendor is promising you is true. Is the LMS intuitive and user-friendly? Do you need to add more features? Or maybe lose some? During the free trial, you'll also determine the quality of customer support.
Ready to choose
So, there you have it: the 11 essential features to look out for when shopping for a small business LMS. Armed with this knowledge, you can make an informed decision about the solution that really fits your needs.
Originally published on: 30 Jul 2020 | Tags: LMS for SMBs