What comes to mind when you think of the onboarding process? If you're in HR, you're probably thinking about the administrative side of onboarding—employment contracts, compensation plans, etc.
But onboarding isn't just about signing employment files and preparing a welcome swag box. It's about setting your new hires up for success in their new role. This means making sure they know essential company policies like cybersecurity and workplace safety guidelines, getting them familiar with tools they will be using, and providing them with job-specific training.
The good news is that all these can be structured and delivered with the help of a single platform to save you a lot of valuable time and give your new hires a memorable experience.
Let's dig into how to use TalentLMS to nail your onboarding game!
Import new hire data
The first thing you want to do when planning your onboarding for your new hires is to start with the basics. You should add the new employee data to your training platform and set the right department and location so that they get relevant training.
Sounds like a piece of cake if you have to do this for one new hire. But imagine having a large number of new hires to include in your onboarding, and set them in different departments or branches manually, or one by one. And all of this, on top of your other tasks.
It would take ages to fill in all these new users in your LMS and create personalized onboarding training. The good news is that with TalentLMS' integrations like BambooHR and Sage, you can save time with quick data import. For instance, you don't have to switch between the two platforms and double-check information. Everything is transferred automatically.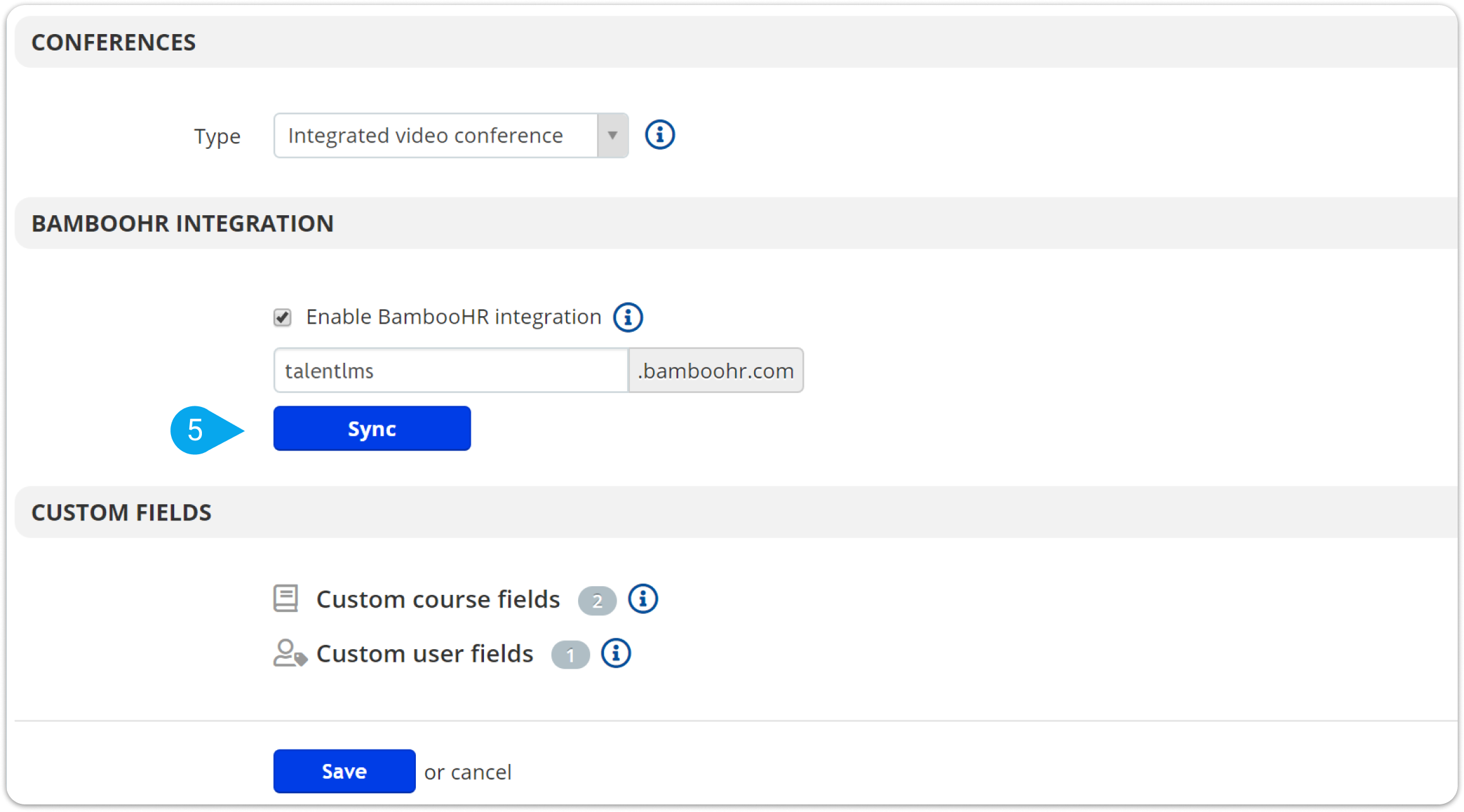 Structure your onboarding courses
Once you've taken the basics out of the way, it's time to delve into planning your training. It's important to make sure your onboarding process is structured in such a way that new hires don't get overwhelmed but don't miss important details either.
For instance, you need to begin with creating and assigning company-wide training sessions like cybersecurity, compliance, and workplace safety. Let's see what you should do next:
Identify your business needs
Prepare the training course content by making sure it applies to all roles
Invite employees and managers into training
Create communication channels
Make training continuous
Plan follow-up quizzes
Attach documents about company policies they should be aware of
Offer a certificate at the end
Once these training topics are covered, follow the same pattern for other types of courses, like job-specific ones. In that way, you ensure the content has been properly digested, and there are alterations between topics, so training isn't flat and dull. And that's how you keep new hires engaged
With the help of your LMS, you can do everything through the platform. You can actually tackle all these tasks once. How amazing is it to create courses once, then update, and reuse them as needed?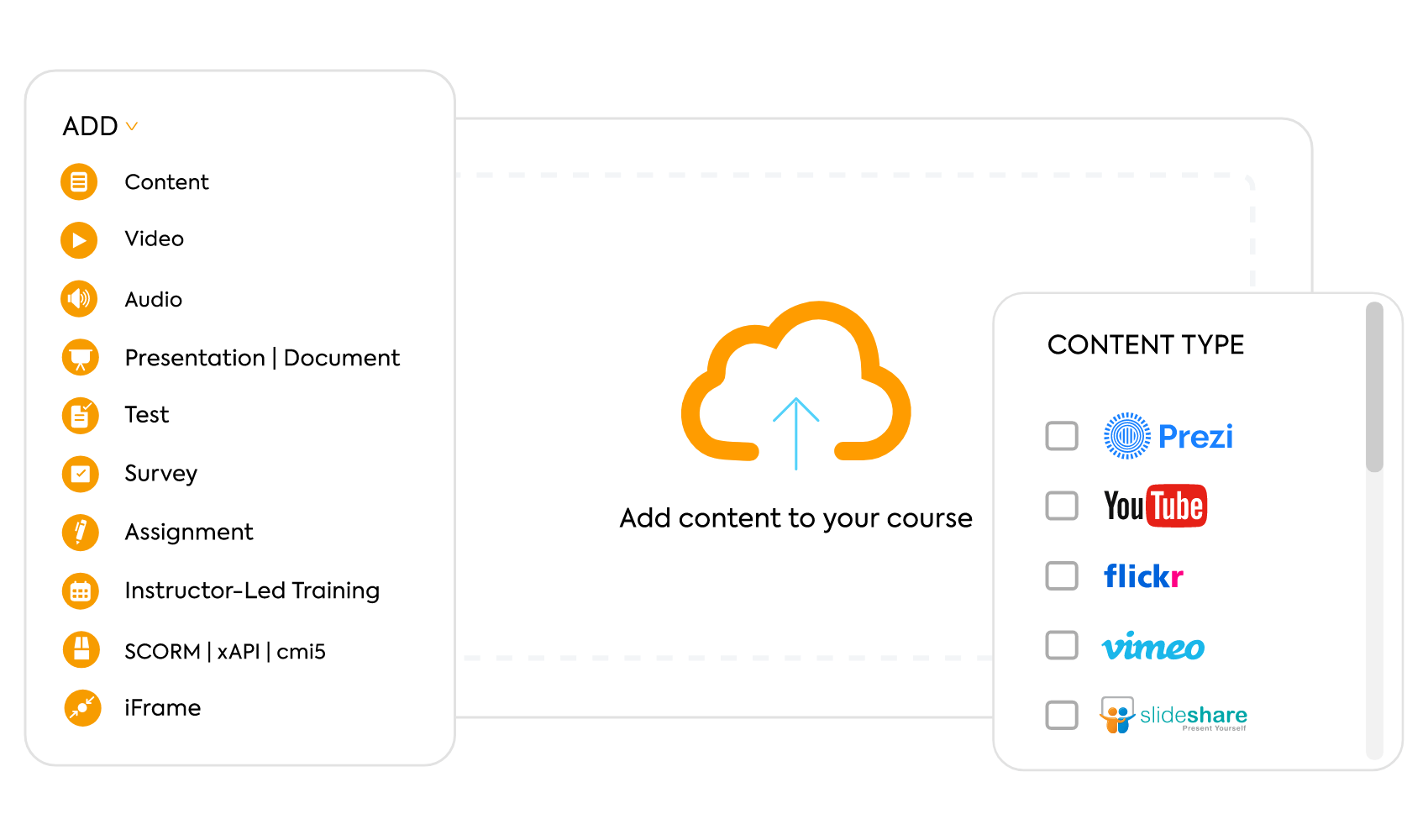 Pro tip: You should always determine which courses come first, and which come second. Everything is a matter of priority. Then, you should decide why and how to mark some of them as optional and offer them to new hires as additional resources they could refer to when necessary.
Introduce the LMS to new hires
The next step you shouldn't miss is to make sure all your new employees are informed about the LMS they will be using for their onboarding. But how are you going to inform them? It's time-consuming when you have to onboard many people at the same time, and it gets even more challenging when team members are distributed.
Finding the balance between saving time and not leaving new hires feeling isolated is the real challenge. That's where automation and templates come in. New hires get all the information they need so they can start using the LMS. Plus you don't get to spend time on repetitive tasks like scheduling meetings with each new hire to show them how to use the LMS.
Make training interactive
What you want to take into consideration next is making training interactive. New hires are always looking forward to getting to know their new colleagues. So, keeping them at bay, isolated in front of a computer until they complete their training, is offputting. Let's see how you can pimp your training and make it more interactive and engaging. Consider using your LMS to offer:
Live video sessions with more experienced team members or colleagues (even from other departments)
Discussion forums where they can ask questions or get in touch with fellow new hires or existing employees
Break rooms where they can chat with colleagues about non-job related stuff
A buddy system
Virtual icebreaker events or a social media events
---
Looking for an eLearning platform to engage your learners?
Make training interactive in no time with TalentLMS.
The training platform that users consistently rank #1.

---
Pro tip: Make training extra fun by including gamification features into training. Badges are an amazing way to spark enthusiasm and engagement as new hires can flex early by sharing their badges with the rest of the company. An LMS that offers gamification features is your go-to option for an exciting onboarding experience.
Incorporate onboarding feedback sessions
Measuring the success of your virtual onboarding program is a key step you should take. To achieve that, you should ask your new hires for feedback, as well as gain data and reports on their performance during training. 36% of HR experts seem to ignore how important it is to measure the effectiveness of their onboarding programs, while only 12% of employees were satisfied with their onboarding. Getting feedback from all new hires is the best way to improve your virtual onboarding and soften rough areas there might be present.
With TalentLMS, you've got everything you need to create effective, accessible, accurate, and actionable training feedback surveys in no time. Yes, you can do that on the same platform you use to create your training courses.
You can produce both qualitative and quantitative data by choosing from different question types (multiple choice, free text, Likert scale). Just create your survey, assign it to a course, and give it a name. Add your questions and possible answers when applicable. All you need to do next is to invite learners to complete it.
Pro tip: Schedule regular online feedback sessions through your LMS with integrated video conferencing software. At the same time, you can always access data on new hire performance by exporting reports through TalentLMS.
Taking the virtual onboarding process one step further
Now that you have prepared the main steps for virtually onboarding new hires, it's time to explore some more best practices which can help you take online onboarding to the next level!
Go mobile
New hires may not have a dedicated office space during the first days. Perhaps they're shadowing coworkers or spending most of their time in meeting rooms. In that case, you should encourage them to download the TalentLMS mobile app so that they are able to access training anytime, anywhere.
Focus on wellbeing
The first days at a new job might overwhelm your new employees. You want to keep stress and anxiety levels low from the very beginning. Consider including bite-sized training sessions around mental health at work, or on work-life balance through a collection of interactive videos on TalentLibrary.
---
Meet TalentLibrary™
A growing collection of ready-made courses that cover the soft skills
your teams need for success at work


---
Offer asynchronous learning
Not all new hires have the same schedule during the first days at work. Maybe never. So, it's essential to plan ahead and give them the option to complete their training sessions whenever they can. Asynchronous training can become easy if you invest in the right training platform that offers the opportunity for new hires to learn at their own pace while you track their progress and performance.
Think smart, not hard, with onboarding
Not every company follows the same onboarding process. And sometimes, even within the same organization, onboarding might differ in each department or location.
Thus, virtually onboarding new employees doesn't have to be painful.
Don't tailor your onboarding process to your LMS, but rather invest in the platform that offers you all the solutions, resources, and features you need to create a successful onboarding strategy.
Originally published on: 28 Jan 2015 | Tags: Online Employee Onboarding