Lessons from Miro
Customer service as a natural talent
Miro is the ultimate collaboration tool for teams that want to visualize their procedures while creating and centralizing communication across their company. The company's clientele includes big brands such as Netflix, Twitter, Upwork, Cisco, and more.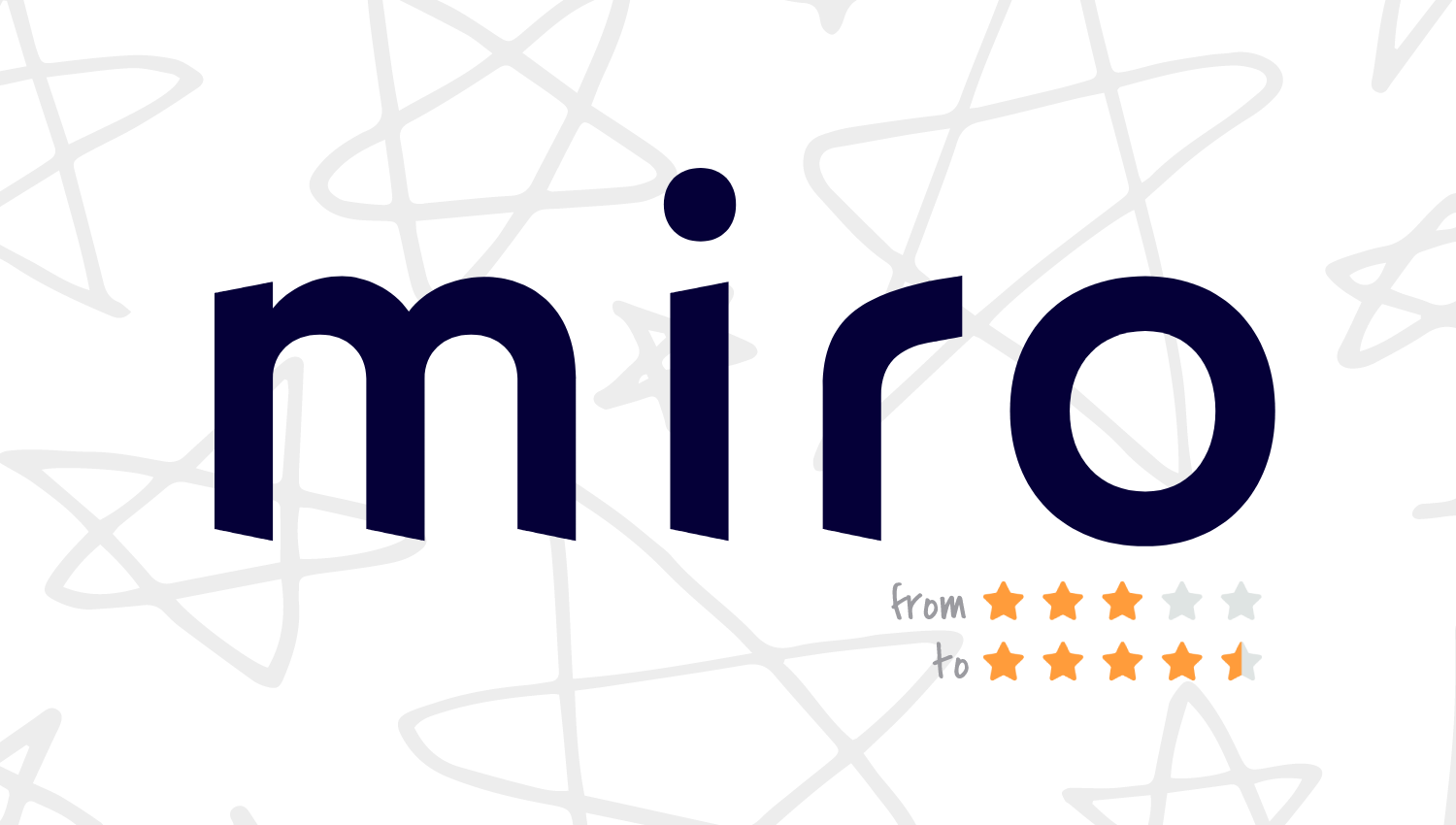 But how did they get there? It was just two years ago when the company, called RealtimeBoard at the time, scored 3/5 stars on Capterra's customer satisfaction ratings. Today, after their rebranding, Miro has grown by 1.5 stars, scoring 4.5/5 stars.
But was rebranding enough to improve their customer experience?
According to Oleg Krasnov, Miro's Head of Customer Support, the factors which contributed to this growth are much more than a name or a logo replacement. More or less, they are more than a dozen. Take them as tips for good customer service and improve customer experience.
Miro's steps to excellence
The very first thing Oleg mentions is how they rebuilt their knowledge base so their customer support agents and customers could access all the information they needed more quickly.
To make it even better, they took their customer service strategy one step further by recording customer service training videos on the processes they should follow and the tools they use. Then, they created their Tone & Voice guide and their Incident Policy to define how the Customer Support team should work with the DevOps team when a critical issue appears.
The next step was to add technology to the game. Auto replies became more humanlike. The team started working with Zendesk, which boosted the team's productivity levels. And they turned their Refund Policy into a user-friendly, automated experience which improved customer satisfaction ratings.
Now, on a team level, there were also many alterations. First, Miro launched Career Ladders to make peer growth more transparent. Second, they started operating 24/7. Third, they freed a lot of time by killing multilingual versions of their website and targeting audiences from the US, they polished the agents' canned responses, restructured how they worked with the sales team, and grew the team from 3 people to 12.
Finally, metrics got into the game. The whole company started using OKRs, and the Support Team launched an original version of KPIs to monitor their customer service strategy.
Training natural talents
When looking for new people, Miro's watching out for faithful helpers who know how to embrace their empathetic side. In Oleg Krasnov's, Miro's Head of Customer Support, words:
"I firmly believe that not everyone is naturally built for being the Customer Support rep. You need to have a necessity to help people, so I seek for those who are eager to help others every day. Empathy is vital."
– Oleg Krasnov, Miro Head of Customer Support
The second factor Krasnov mentions is cultural fit. If he's happy with a candidate's personality and willingness to help, he can hire customer support representatives even without any relevant experience.
Luckily, there's onboarding and customer service training for these two.
After some extensive training on product, culture, on-the-job skills and communication, 2 months will have gone by.
After that, there's a series of recurring activities and regular customer service training sessions. One example would be Miro's second-line engineers who often train customer support representatives on complicated issues.
The team also meets three times a week to make sure they are all on the same page when shaping the customer support strategy.
Negative comments? Follow Miro's 5-step strategy.
Miro's strategy when managing negative feedback and angry customers is quite simple: Before you address the problem, make sure you figure out how to make your customer successful. Then you can think about how to improve customer experience.
More specifically, here's their exact five-step strategy:
Keep calm and grasp the idea that customers usually provide negative feedback about the product or the process — not you.
Step into your customer's shoes and understand their pain — listening is key for outstanding customer service.
Try to think of how to make your customer successful first, and then think of ways to achieve your goal.
Drive change and do some great job! Always ask yourself: "What can I do even better? How can I improve customer experience?"
But always remember that change doesn't happen overnight — improvement is a continuous process.
Customer service metrics based on quality and motivation
For Miro, the foundation of extraordinary Customer Support is based on speed, quality of answers, and the ability to better the product.
While the third one is a company-wide goal, the Customer Support team measures how fast they reply, according to the tiers and priorities, and they're continuously checking the tickets to synchronize the team on the quality standards.
To keep being motivated, the Customer Support team created an internal KPI model. But there was a challenge:
"At the end of December, we started preparing the rollout of a new KPI model for our team. We decided to have a systematic ticket review for everyone, and we agreed to have a 5-point scale. But an interesting topic was raised: "How would we rate something outstanding?"
– Oleg Krasnov, Miro Head of Customer Support
So, the idea was simple. They moved from a 5-point to a 6-point range and called 6-star ratings "Unicorns" — or "Mirocorns." From that point onwards, when someone received a Mirocorn, they were recognized by a loud round of applause.
This simple routine hasn't only helped them motivate the team, but also achieve high-quality customer service since it helped them both raise the quality bar of their answers and make their replies more thoughtful and personal. Ultimately, the average replies per ticket went from 1,6 to 1, and the Customer Support team received the recognition it deserved.
Owning a Mirocorn means you've mastered all customer service representative skills — whether with training or by being naturally awesome: soft skills, hard skills, empathy, product knowledge, and going the extra mile for the customer. Today, the team has launched the "Unicorn Awards" to identify the champ who got the most 6-pointed tickets for the quarter.
---
Miro's customer support checklist
Invest in building a high-quality knowledge base
Go with the metrics that best match your objectives
If none of the existing metrics work out, create your own
When managing angry customers, ask yourself how the product failed them and how you can improve it
Focus on speed, quality, and bettering your product
When talking to a customer, think about how they're going to succeed — not how you can solve the problem

Miro's top 3 tools: Zendesk, Stripe, and internal admin panel