Lessons from PieSync
Training customer service staff with a story
PieSync is a synchronization tool that works in the background and syncs contacts two-way in real time. This way, people have access to their customer information anytime, anywhere.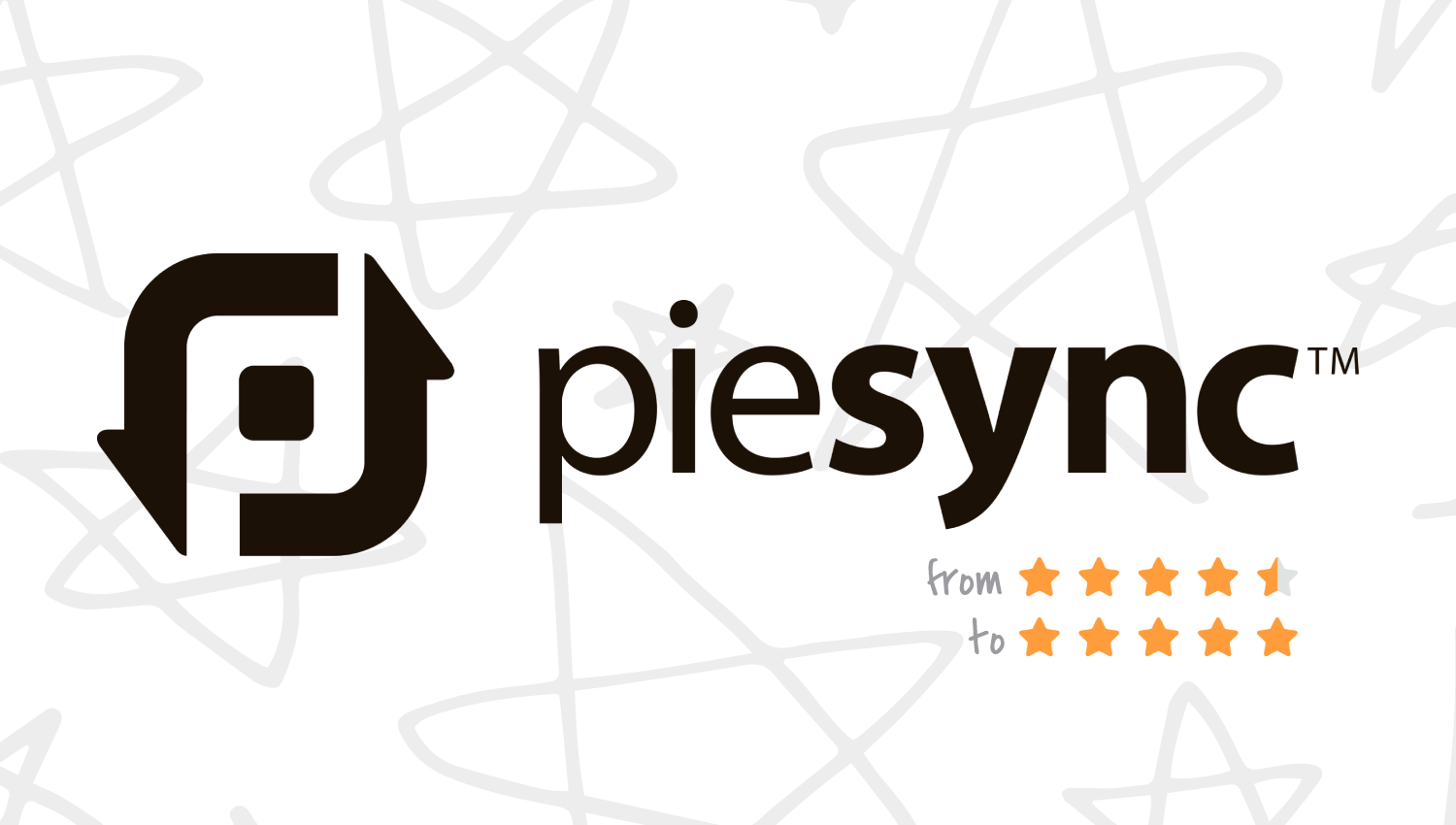 Founded in 2012, PieSync is a relatively new company. What do smaller companies do to achieve better results and get more fresh ideas on how to improve customer service? How is their customer service training delivered? What is it made of?
PieSync's team is made up of only 3 customer support representatives. And, among them, they manage about 18,000 happy customers.
And it works.
Today, customer support service at PieSync scores 5/5 stars when, two years ago, it scored 4.5.
So, what has changed? Was it their customer service strategy? Some amazing training to acquire excellent customer service skills?
According to Jonas Rasschaert, Head of Customer Success, they can't pinpoint this increase on one specific measure since they're constantly trying to implement new ideas, as well as ask users and team members for feedback.
However, Jonas mentions 3 things he believes improved their customer service rating:
Their effort to increase the amount and quality of available content with how-to articles, video tutorials, etc.
Their "helicopter view" on their customer support strategy. From time to time, the team takes a step back to check what can be improved.
They implemented a system to capture all the feedback from leads, prospects, and customers to have a clearer picture of recurring questions and most common issues.
So, there you have it. These are the rules you need to keep in mind if you're looking for some customer service training ideas or searching for tips for good customer service.
Training narratively
Of course, PieSync trains its staff on all the on-the-job skills a customer support agent needs. But there's no such thing as a stop sign after customer service skills training.
"When I train new team members, I try to engage them in the company story and what we want to achieve. In a startup environment, everybody can have a direct impact on what happens in the future."
– Jonas Rasschaert, PieSync Head of Customer Success
PieSync's formula to quality customer service is to make customer support agents feel like solution architects – not like support agents who simply respond to support tickets.
Employees start on-the-job customer experience training with a general explanation of all the tools the team works with. There's an extensive product training program and a look at actual PieSync use cases. Then, it's time to move gradually to the "real deal" by responding to queries, writing support content, and chatting with real customers.
"I feel like the learning curve can increase exponentially by doing the actual work. So our new hires can work on real questions and cases rather than pretending and typing their answers in a note."
– Jonas Rasschaert, PieSync Head of Customer Success
When discussing and checking ticket responses by new hires, the team doesn't only evaluate how each new member addresses the issue. They also zoom in on the tone of voice, and how empathetic they've been.
For the final step of their customer service training, new hires move on and process more complex cases until they feel confident enough.
And confidence is of crucial importance.
Jonas says that he is always open with his team members and lets them decide how to move forward with their training. "As a manager, it's your responsibility to make people feel good. Rather than bossing them around, be a leader, and let them thrive by working together. In order to get control, you need to give control," he concludes.
Challenging situation? Just solve it.
When PieSync has to treat a difficult situation, the first thing customer support representatives at PieSync do is put themselves in the same spot as the customer to see if this criticism is valid.
The team uses this feedback to learn and make improvements on the product overall. But their priority is to always solve any challenge that might occur as fast as possible.
And if things get too uptight, take a break before you get back on the horse.
The metrics to evaluate success
PieSync might be a newcomer, but they use the same metrics as other prominent companies. One of the more critical metrics in the company is Monthly Recurring Revenue (MRR), while the customer support and customer success teams work on conversions (from trial users to customers).
Last but not least, they use churn metrics to examine the probability rate at which customers will cancel their subscriptions, customer satisfaction (CSAT), and net promoter scores (NPS) to capture additional feedback and track underlying issues.
---
PieSync's customer support checklist
Create "how-to" content with valuable information
Promote cross-departmental collaboration
Train new hires on company culture
Allow new hires to work with real customers and real problems right off the bat
Allow them to make decisions for their career path and development
Do not take negative feedback personally
Focus on solving the problem

PieSync's top 3 tools: Kustomer, Customer.io, and HelpDocs